This week Afton spoke at a baptism for a friend in our ward. She did a great job despite her nerves and a VERY large crowd (about 50+). She even took the initiative without any hints to record it in her scrapbook: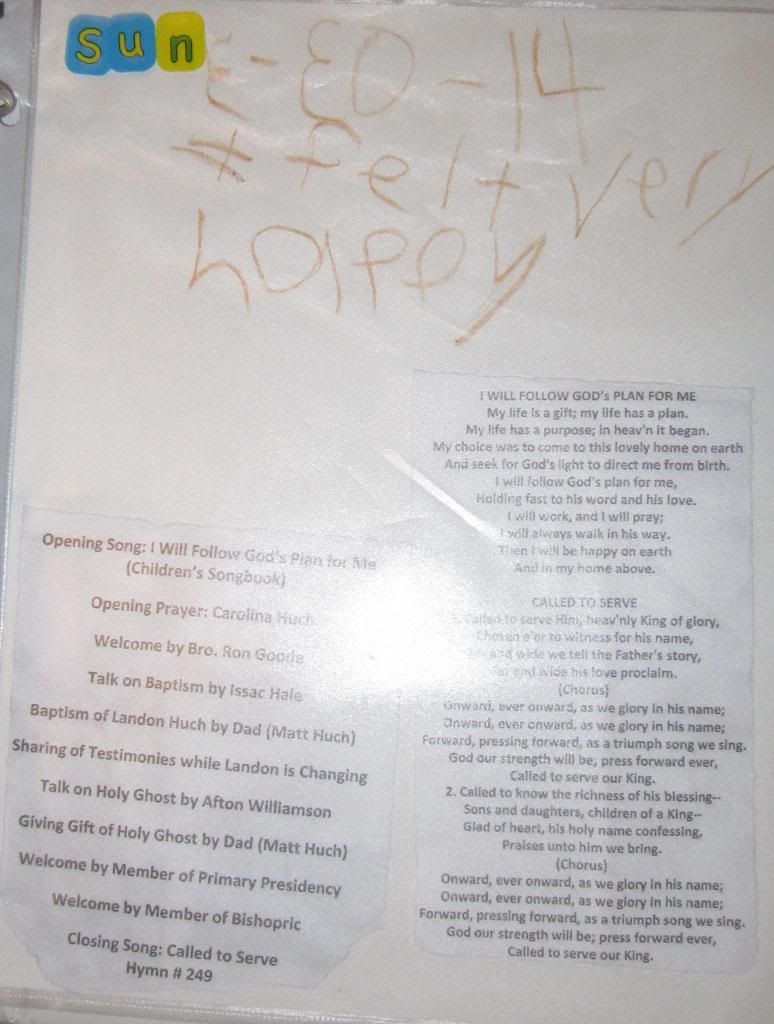 see her name on the left there?!
I hinted that she might like to save the notes for her talk. She read most of it, but ad-libbed a bit on the object lesson: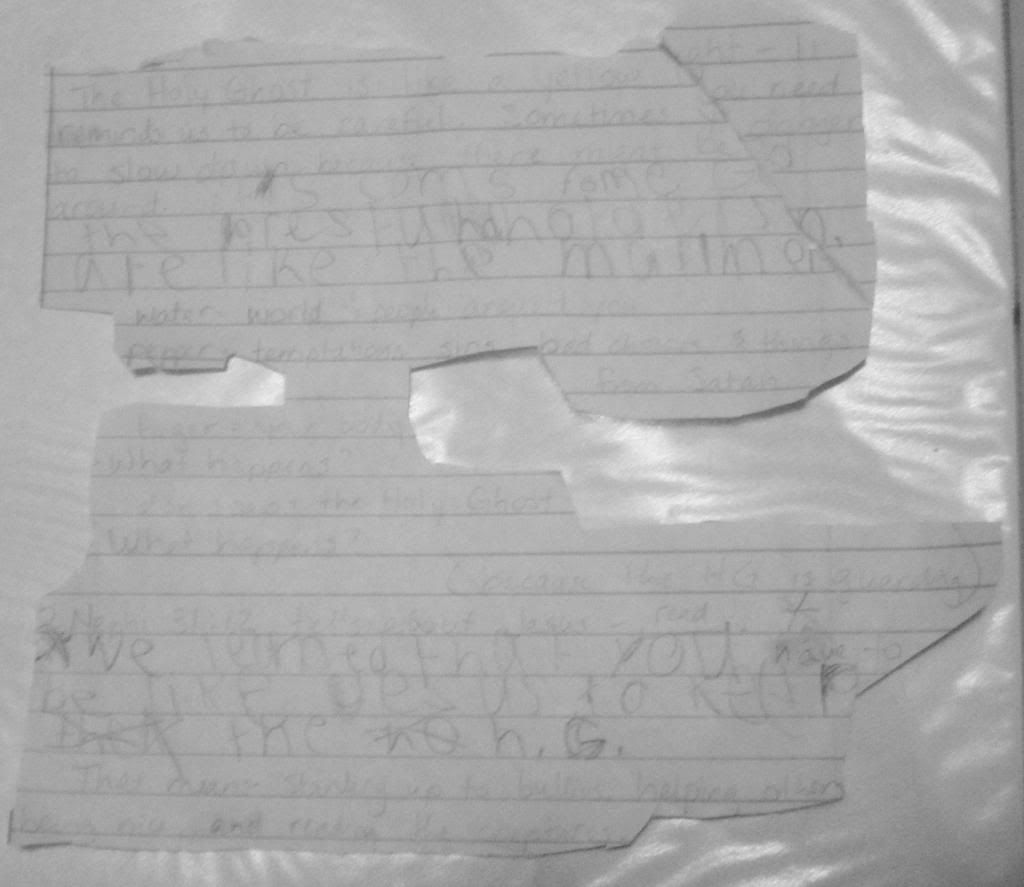 sorry this is so light.
it says:
The Holy Ghost is like a yellow light -- it reminds us to be careful. Sometimes you need to slow down because there might be danger around. It comes from God. The priesthood holders are like the mailmen.
(object lesson)
Water = world and people around you
pepper = temptations, sins, bad choices, & things from Satan
finger
(she had the boy being baptized come up)
= you
(then she asked him
what happens
when he put his finger in a cup of water with pepper floating on top--it gets dirty!)
dish soap = the holy ghost
(he wiped his finger off, put soap on it, and tried again)
what happens?
(the soap repels the pepper so it stays clean)
2 Nephi 31:12 tells about Jesus -
read
** we learn that you have to be like Jesus to keep the Holy Ghost. That means standing up to bullies, helping others, being nice, and reading the scriptures.
ps, in case you're wondering, I made he write the whole talk herself, her rough draft was a bit rougher than this, I helped her write the final copy so it would be done faster :) --and a bit neater/easier to read ;)
and here's Rayna's big project from this week. She was supposed to get all her family's favorite modes of transportation and put them in a pictograph. she could have limited it to 3-4 types, but she liked the variety. unfortunately we didn't get all the categories in one line :) that one sitting a bit high on the right is motorcycle.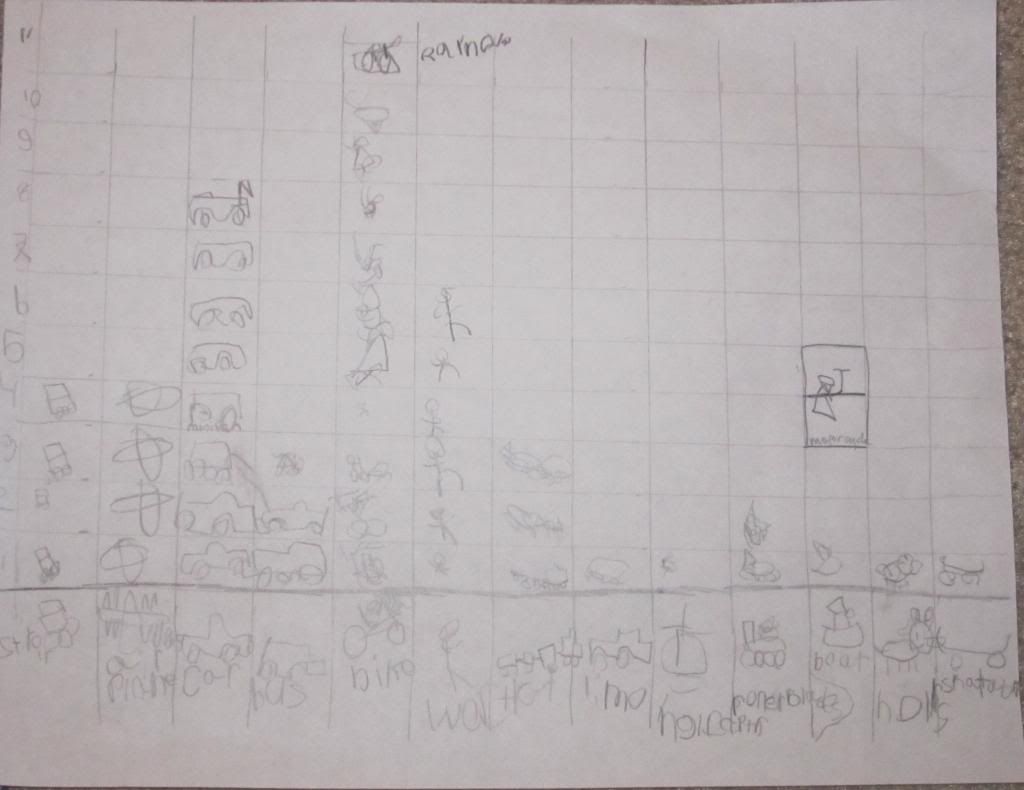 for those that are having a hard time reading the final results it says:
4 Stroller
4 Airplane
8 Car
2 Bus
11 Bike
6 Walk/run
3 Train
1 Limo
1 Helicopter
2 Rollerblade
1 boat
1 Horse
1 Skateboard
1 Motorcycle
(I'm guessing she has the biggest graph in the class! --there were 2 other jokes about horses, and 1 about camels that later changed their minds)
and just to give you an idea about Asher's big movements this week. he's doing a lot of planking and scooting backwards and has even managed to go from tummy to seated pretty consistently for the last few days. note his face. he does NOT like being on his tummy at ALL thank you very much!
happy almost April... and if I don't see any more snow 'til November, that's plenty soon enough for me!